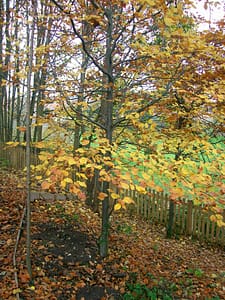 The Tythe Copse is in the south east corner of Baxter's Field. It is fenced off from the field to help protect the many types of birds, insects and other animals that live there. There are nesting boxes for a variety of birds, newly planted saplings and a host of other interesting features – like the bridge over the fallen lime tree, which is made of 20,000 recycled plastic bottles. Rest on one of the benches and appreciate the calm serenity of this beautiful wooded area. Take a look at the map which gives you a brief history of the copse.
WHY IS THE COPSE USUALLY CLOSED?
When we created the Tythe Copse Nature area, it was our intention to have it open at the same time as the field. We labelled trees and plants and bought a large collection of smaller labels for flowers, fungi and trees. We notified local schools of the copse's existence and hoped it would be used by groups of children.
Sadly, the area quickly attracted groups of young people who caused serious damage to the fencing, labels and bird boxes. Our intention is to erect a stronger, more permanent fence to discourage this anti-social behaviour. Our wish is to make this area a safe refuge for wildlife and a peaceful space for all who seek the tranquillity the copse offers.
We can open the copse at any time for groups, such as schools, that would like to come on supervised visits. We will also open it up especially for you, your family or visitors if you would like to spend some time in there. You only have to contact 01273 472251 or 01273 474110 to arrange an opening.
WHY IS IT CALLED TYTHE COPSE?
Tythe is the old spelling of tithe. We still pay an annual tithe of £12.50 – see below the copy of the tablet which is fixed high up on the vestry wall in St Anne's Church.